HAKII Time ANC Noise Cancelling Wireless Earbuds Manual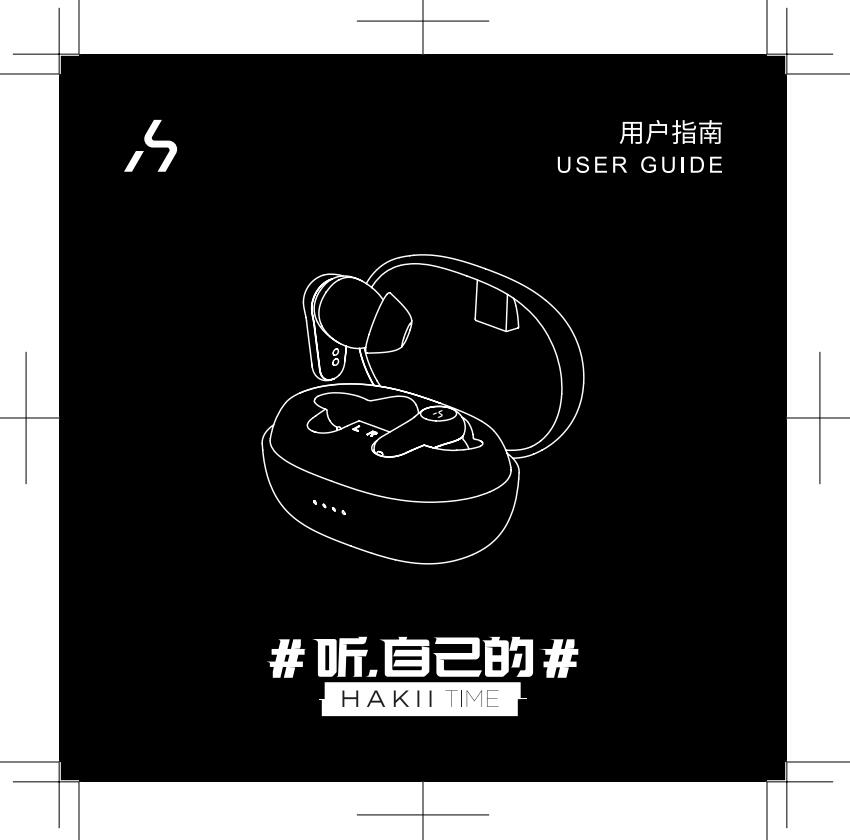 THE PACKAGE CONTENT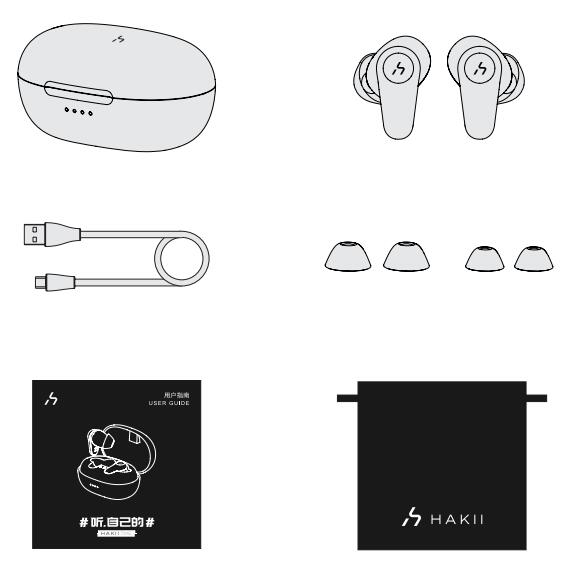 PRODUCT OVERVIEW
READY TO USE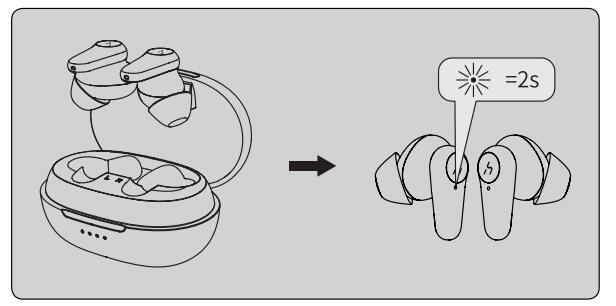 The earbuds will turn on and enter pairing mode automatically, even when you remove the right and left units from the charging case.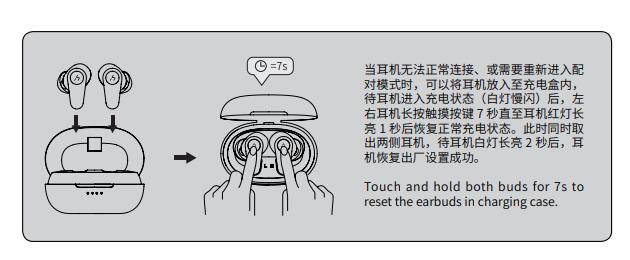 CONNECT

Turn on Bluetooth function on your device and select HAKII TIME referring to your phone instructions.
ACTIVE NOISE CANCELING & TRANSPARENT MODE
The boot defaults to the normal mode. Touch and hold the touch button and release it to switch between ANC mode, transparent mode, and normal mode.
AUDIO CONTROL

HANDS-FREE PHONE CALL

In the incoming call state, tap the touch button of any earbud once to answer the call.
Touch and hold the touch button of any earbud for more than 2 seconds and then release to reject the call.
Touch and hold the touch button of any earbud for more than 2 seconds and then release to hang up the call.
ACTIVATE THE VOICE ASSISTANT

Double-tap the touch panel on the left or right unit to activate Siri*.
BATTERY INFORMATION
The earbuds and the charging case each have a built-in rechargeable battery. We recommend using the supplied USB cable and a compatible standard USB power supply for charging the headphones.
The over-rating power supply would damage the built-in battery.
A complete charging cycle of the earphones takes about 1.5 hours and the charging case takes about 2 hours. Please fully charge the earbuds and case before using it.
The life of the built-in rechargeable battery drops with repeated charging. It is normal for all types of rechargeable batteries.
SPECIFICATIONS
Model: HAKII TIME
Wireless Version: 5.0
Waterproof: IPX4 for buds
Codecs: SBC, AAC
Dynamic driver: φ10mm
Frequency response: 20 Hz - 20 kHz
Battery capacity: 40mAh*2, 400mAh (est)
Earbuds battery life: Up to 6 hours
WARNING
Please follow the instructions in this manual.
Please use and store this product in the ambient temperature environment.
Do not use this product near the heat source, such as a radiator, a hot air conditioner, a stove, or other instruments that produce heat.
Don't block the ports of the headset, such as charging indicator and microphone, etc..
Please don't adjust the volume to the maximum level for a long time to avoid causing dizziness or damage to hearing.
No matter the product is damaged for any reason, it must be dealt with in time with the after-sale personnel of us. Any unauthorized demolition and modification will make the warranty invalid.
IMPORTANT SAFETY INSTRUCTIONS

Contains small parts which may be a choking hazard. Not suitable for children under age 3.

This product contains magnetic material. Consult your physician on whether this might affect your implantable medical device.
Do NOT make unauthorized alterations to this product.
Use this product only with an agency approved power supply which meets local regulatory requirements (e.g., UL, CSA, VDE, CCC).
Do not expose products containing batteries to excessive heat (e.g. from storage in direct sunlight, fire or the like).
Wipe off sweat from the earbuds and the charging case before charging.
IPX4 is not a permanent condition, and resistance might decrease as a result of normal wear.
NOTE:
This equipment has been tested and found to comply with the limits for a Class B digital device, pursuant to Part 15 of the FCC Rules. These limits are designed to provide reasonable protection against harmful interference in a residential installation. This equipment generates, uses and can radiate radio frequency energy and, if not installed and used in accordance with the instructions, may cause harmful interference to radio communications. However, there is no guarantee that interference will not occur in a particular installation. If this equipment does cause harmful interference to radio or television reception, which can be determined by turning the equipment off and on, the user is encouraged to try to correct the interference by one or more of the following measures:
Reorient or relocate the receiving antenna.
Increase the separation between the equipment and receiver.
Connect the equipment into an outlet on a circuit different from that to which the receiver is connected.
Consult the dealer or an experienced radio/TV technician for help. Changes or modifications not expressly approved by HAKII could void the user's authority to operate this equipment.
This device complies with part 15 of the FCC Rules and with Industry Canada license-exempt RSS standard(s). Operation is subject to the following two conditions: (1) This device may not cause harmful interference, and (2) this device must accept any interference received, including interference that may cause undesired operation.
This device complies with FCC and Industry Canada radiation exposure limits set forth for general population. It must not be co-located or be operating in conjunction with any other antennas or transmitters.

HAKII hereby declares that this product is in compliance with the essential requirements and other relevant provisions of Directive 2014/53/EU and all other applicable EU directive requirements.
For Europe: Frequency band of operation 2400 to 2483.5 MHz:
Bluetooth: Maximum transmit power less than 20 dBm EIRP.
Bluetooth Low Energy: Maximum power spectral density less than 10 dBm/MHz EIRP. DON'T attempt to remove the rechargeable lithium-ion battery from this product. Contact your local HAKII retailer or other qualified professional for removal. Please dispose of used batteries properly, following local regulations. Do not incinerate.

This symbol means the product must not be discarded as household waste, and should be delivered to an appropriate collection facility for recycling. Proper disposal and recycling helps protect natural resources, human health and the environment. For more information on disposal and recycling of this product, contact your local municipality, disposal service, or the shop where you bought this product.
WARRANTY TERMS AND CONDITIONS
HAKII offers ONE (1) year warranty on all HAKII® products from the date of original purchase. The products should be purchased either from HAKII owned retail store or HAKII authorized dealers. Proof of purchase is needed to prove the product is purchased from HAKII authorized sales channels. HAKII offer free repair or replacement service during the warranty period.
THE FOLLOWING ARE NOT COVERED BY THE WARRANTY:
Defects that cause by not following the products user manual, or using the parts that are not made or authorized by HAKII, or using the pirated software.
Defects that caused by disassembling the products by any unauthorized maintenance center or person.
Defects that caused by accident or any force majeure event, such as fire, water, external extrusion force or drop, lightning, earthquake, typhoon, etc.
Deterioration of the components or the parts used on products, the nature of which is to become worn or depleted with use, such as headphone ear pads, silicon ear tips, batteries, etc.
Fake commodities are not covered by the warranty.
For unspecified terms, refer to the local laws and regulations where the sales stores and dealers located.
To claim repairs under warranty, please contact the dealers or retailers where the relevant product is purchased. To validate your warranty, you will need to provide the original sales invoice or other proof of ownership and date of purchase.